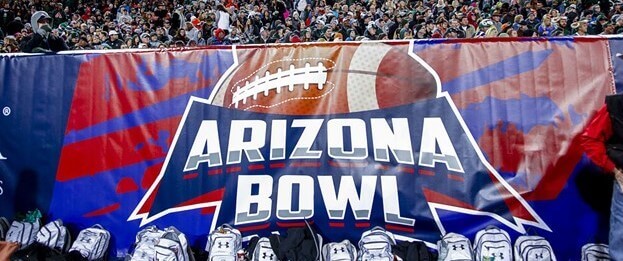 Roll for the Bowl Brings in $13,200 for
NOVA Home Loans Arizona Bowl's Charitable Partners
TUCSON, Ariz., October 2, 2019 – As part of its commitment to donate 100 percent of its net proceeds to charity, the NOVA Home Loans Arizona Bowl today announced that it raised $13,200 at this year's Roll for the Bowl, a bowling tournament held recently at Lucky Strike Bowl.
Half of the funds raised, $6,600, will be donated to the Centurions, a local non-profit that supports a wide range of charitable organizations and projects in Southern Arizona through hosting community events and other impact programs. The remaining $6,600 will be allocated to other local non-profits that apply for grants during the Bowl's annual grant cycle that commences later this month. Since its inaugural game in 2015, the Bowl has donated more than $3.5 million to charity."
Charity has always been the soul of our Bowl, and it was such an encouragement to see Tucson turn out for this tourney that raised funds with every strike, spare, and split," said Kym Adair, the Bowl's executive director. "It's a privilege for us to join with the Centurions for this annual event and to work together on unique ways to make a difference in the lives of others," she continued.
The winning team for the 2019 Roll for the Bowl was Bruce Moses' Attention to Detail. Team members each received official Bowl watches and will have their photo in the official Bowl program.
About the NOVA Home Loans Arizona Bowl
Owned and operated by TD4Tucson, a Tucson-based non-profit organization, the NOVA Home Loans Arizona Bowl provides world-class experiences for college student-athletes, fans, and the local community, culminating in a nationally recognized college football competition. This year's game will kick-off at 4:30 pm EST on December 31, featuring teams from the Mountain West and Sun Belt Conferences with national audience partnership support from CBS Sports Network. For more information visit http://www.NOVAArizonaBowl.com.