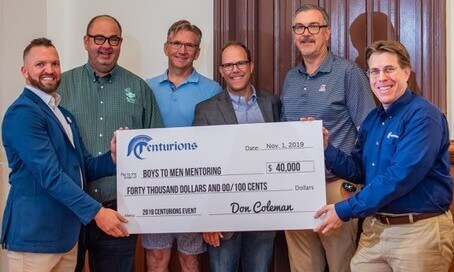 Continuing its long tradition of supporting local charities, The Centurions presented a $40,000 donation to Boys to Men Mentoring of Tucson (BTMT) on November 1, 2019.
The donation to BTMT was made from The Centurions' 2019 annual Event, Peace, Love, Centurions: A Party 50 Years in the Making. More than 6,000 guests attended the fundraising event on April 27 at Kino Sports Complex. It's one of the largest local fundraising events in Southern Arizona.
Additional donors matched The Centurions' funding. As a result, BTMT will propel its flagship School-Based Mentoring (SBM) Program. Importantly, the program provides weekly mentoring services to 150 mostly unfathered boys age 11-17 in 10 urban-area middle and high schools.
The Centurions presented the check during BTMT's third annual Community Conversation About Boys luncheon. This is a critical event to change the conditions in our community related to toxic masculinity. It brings together a variety of stakeholders for an afternoon of lunch and learning. Participants hear from boys, mentors, and advocates about the urgency in our community to build and support social infrastructures to support boys in their journey towards healthy masculinity.