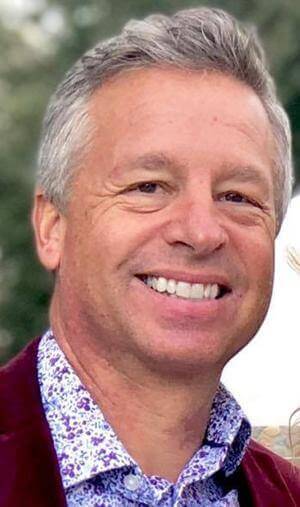 Arizona Daily Star
August 17, 2019
Fitz's Opinion: Remembering my friend Ken Flower
David Fitzsimmons is writing about Tucson businessman and philanthropist Ken Flower, who died Aug. 10:
Ken Flower was a truly big man with a Jumbotron smile. A care bear crossed with a media mogul. And so in love with Jeanne. When Ellen and I saw our friends Ken and Jeanne at a cafe a few years back we decided to give them their privacy. "Look. They're still holding hands." Their eyes were locked. They were so happy in each other's presence, they positively shimmered with the sublime glow of deep abiding love. Who would want to interrupt that spell?
I met Ken at the Tucson Festival of Books years earlier. I had no clue who he was. Just this friendly galoot with a strong handshake and a hug that swallowed you up. When one of his happy employees came up to chat with him I learned he owned Arizona Party Rentals. "All these tents and tables and chairs are yours?"
We ended up lunch buddies. Who would have thought an NFL insider, a broadcast media titan and I would became friends.
Behind Ken's disarming manner was a shrewd entrepreneur. Blessed with an amazing work ethic, Ken rose up the corporate management and sales ladder in the highly competitive world of broadcasting.
Over one of our many lunches he happily described how he traded it all for the chance to do it his way, giving birth to Arizona Party Rental, a good corporate citizen that reflected Ken's kind nature. I was honored and flattered by his earnest friendship. I'm sure everyone ended up feeling that way about Ken Flower.
Together we looked like Arnold Schwarzenegger and Danny DeVito.
Ken believed in giving. Ask the Centurions, Tucson Medical Center, the Rotary Club of Tucson, the Tucson Festival of Books, Ronald McDonald House Charities, and the Carondelet Foundation. Ask the Susan G. Komen Race for the Cure, Reading Seed, Literacy Connects and Make Way for Books.
Ken loved this community and the people in it. Ask the American Red Cross, El Rio Vecinos or Tu Nidito.
Ken worked tirelessly to ease the suffering of strangers. Ask the American Heart Association, the National Brain Tumor Foundation, the Southern Arizona AIDS Foundation, or the Muscular Dystrophy Association.
Ken was so kind. Just ask me. I needed some media advice so I called Ken. In an instant we were breaking bread together and laughing and telling stories and commiserating and telling more stories. He did not hesitate to give me the gift of his afternoon or his 20 years of business acumen. And he bought lunch.
Over three hours, Ken gave me more seasoned advice than a comparable high-dollar media consultant ever would. He brought along research, printouts and most wonderful of all, his business wisdom and his gentle humor.
A curiously wholesome and decent man, Ken was a gentleman. I never heard him speak ill of anyone. My heart aches at the loss for so many of us. And especially for his beloved Jeanne.
When Ken met Jeanne he found the love of his life. How fortunate you were in this world together. When I saw Jeanne and Ken at the last book festival, you wouldn't know they had been a couple for quite a while from the way they touched each other with tender affection, from the way they spoke as one, from the way they gently teased each other, from the way they laughed together and lifted each other up. It was wonderful and inspiring to see a couple so deeply, madly, and sweetly awash in enduring love.
Ken, I am so glad you were in the world and that we met and became friends. I'll remember you at every book festival when I watch the great array of tents rise up on the Mall. I'll tell your stories. I'll describe your great smile and your vigorous handshake. And your life-embracing hugs. And I will forever treasure seeing you that night at the cafe with the love of your life, your beautiful Jeanne, showing all of us what profound tenderness looks like.
Jeanne, we love you and mourn with you. Love you forever, Ken.