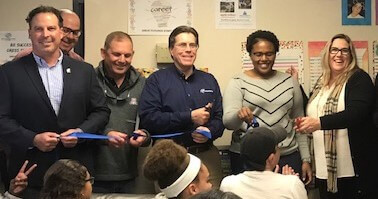 The Centurions Workforce Development Workforce Center at the Boys & Girls Clubs of Tucson's Holmes Tuttle Clubhouse was made possible by The Centurions' $50,000 donation from its annual fundraising Event.
Boys & Girls Clubs get job-training center to help youths prepare for workforce
Arizona Daily Star Feb 18, 2019 
A youth workforce development center has opened at the Boys & Girls Clubs of Tucson.
The center, called the Centurions of Southern Arizona Workforce Development Center, is at the Holmes Tuttle Clubhouse, 2585 E. 36th St.
The center will provide access to job training, computers, staff to help write résumés and prepare portfolios, a career dress closet where youths have access to clothing for interviews, and a conference space for workshops. Youths from all the organization's clubhouses can use the new space.
The center is a partnership between Boys & Girls Clubs of Tucson, The Centurions and Sam Levitz/Ashley HomeStore.
The Boys & Girls Clubs of Tucson reach about 9,000 young people annually through memberships and community outreach.
Memberships are $20 per school year and $60 for the summer. This fee includes dinner during the school year and lunch during the summer.